20 AI stocks expected to post the highest compound annual sales growth to 2025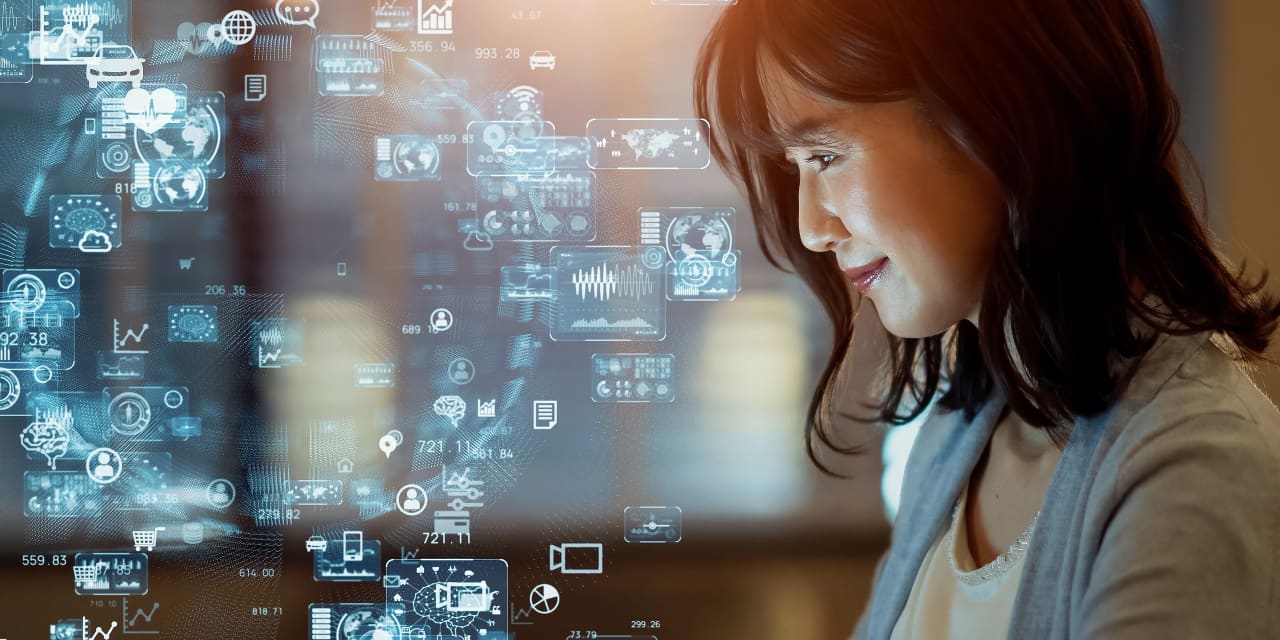 Things move quickly in the world of artificial intelligence. It is easy to sit back and complain about developments that could be disruptive, but sometimes investors are best served by putting emotions aside and observing new developments and how they affect markets. Could AI developments and related trends make you a lot of money?
Below is a new screen showing a group of AI-oriented companies expected to increase their sales most rapidly through 2025, based on consensus estimates among analysts polled by FactSet. Then we show expected revenue growth rates for the largest AI-oriented companies in the screen.
Over the long haul, many businesses might perform more efficiently by employing AI. Maybe this technology can create an economic revolution similar to the one that moved the majority of the working population away from agricultural labor during the 19th and 20th centuries.
Back in February, we screened 96 stocks held by five exchange-traded funds focused on AI and related industries and listed the 20 that analysts thought would rise the most over the following 12 months.
Three months is a long time for AI, and the shakeout hasn't even started.
Read: Congress and tech seem open to regulating AI efforts, but that doesn't mean it will happen
There is no way to predict how politicians will react to perceived or real threats of AI and machine learning. And the largest U.S. tech players are doing everything they can to employ the new technology and remain dominant. But that doesn't mean they will grow more quickly than smaller AI-focused players.
A new AI stock screen
Once again we will begin a screen with these five ETFs:
The Global X Robotics & Artificial Intelligence ETF
BOTZ
BOTZ was established 2016 and has $1.8 billion in assets under management. The fund tracks an index of companies listed in developed markets that are expected to benefit from the increased utilization of robotics and AI. There are 44 stocks in the BOTZ portfolio, which is weighted by market capitalization and rebalanced once a year. Its largest holding is Intuitive Surgical Inc.
ISRG

,


which makes up 10% of the portfolio, followed by Nvidia Corp.
NVDA
at 9.4%.
The iShares Robotics and Artificial Intelligence Multisector ETF
IRBO
holds 116 stocks that are equal-weighted, as it tracks a global index of companies that derive at east 50% of revenue from robotics or AI, or have significant exposure to related industries. This ETF was launched in 2018 and has $304 million in assets.
The $246 million First Trust Nasdaq Artificial Intelligence & Robotics ETF
ROBT
has 107 stocks in its portfolio, with a modified weighting based on how directly companies are involved in AI or robotics. It was established in 2018.
The Robo Global Artificial Intelligence ETF
THNQ
has $26 million in assets and was established in 2020. I holds 69 stocks and isn't concentrated. It uses a scoring system to weight its holdings by percentage of revenue derived from AI, with holdings also subject to minimum market capitalization and liquidity requirements.
The newest ETF on this list is the WisdomTree Artificial Intelligence and Innovation Fund
WTAI

,


which was established in December and has $13 million in assets and holds 73 stocks in an equal-weighted portfolio. According to FactSet, stocks are handpicked and selected companies "generate at least 50% of their revenue from AI and innovation activities, including those related to software, semiconductors, hardware technology, machine learning and innovative products."
Altogether and removing duplicates, the five ETFs hold 270 stocks of companies in 23 countries. We first narrowed the list to 197 covered by at least nine analysts and for which consensus sales estimates are available through calendar 2025. We used calendar-year estimates because some companies have fiscal years that don't match the calendar.
Here are the 20 screened AI-related companies expected by analysts to have the highest compound annual growth rates (CAGR) for sales from 2023 through 2025. Sales estimates are in millions of U.S. dollars. The list also shows which of the above five ETFs holds each stocks.
Company
Ticker
Estimated sales – 2023 ($mil)
Estimated sales – 2024 ($mil)
Estimated sales – 2025 ($mil)
Two-year estimated sales CAGR through 2025
Held by
BioXcel Therapeutics Inc.
BTAI
$5
$39
$121
411.5%
WTAI
Luminar Technologies Inc. Class A
LAZR
$86
$266
$588
161.0%
ROBT, WTAI
BlackBerry Ltd.
CA:BB
$685
$769
$1,925
67.6%
ROBT
Credo Technology Group Holding Ltd.
CRDO
$183
$259
$363
40.9%
IRBO
SentinelOne Inc. Class A
S
$619
$881
$1,176
37.9%
WTAI
Wolfspeed Inc.
WOLF
$982
$1,323
$1,860
37.6%
WTAI
SK hynix Inc.
KR:000660
$18,319
$27,899
$34,542
37.3%
WTAI
Mobileye Global Inc. Class A
MBLY
$2,109
$2,782
$3,920
36.3%
ROBT, WTAI
Snowflake Inc. Class A
SNOW
$2,811
$3,863
$5,139
35.2%
IRBO, THNQ, WTAI
Lemonade Inc.
LMND
$395
$471
$712
34.2%
THNQ, WTAI
Nio Inc. ADR Class A
NIO
$11,874
$16,733
$21,304
33.9%
ROBT
Stem Inc.
STEM
$607
$833
$1,055
31.8%
WTAI
Upstart Holdings Inc.
UPST
$547
$768
$938
31.0%
BOTZ, WTAI
Cloudflare Inc. Class A
NET
$1,284
$1,669
$2,194
30.7%
THNQ
Samsara Inc. Class A
IOT
$830
$1,062
$1,364
28.2%
THNQ
Ambarella Inc.
AMBA
$287
$355
$472
28.2%
IRBO, ROBT, THNQ, WTAI
iflytek Co. Ltd. Class A
CN:002230
$3,561
$4,582
$5,851
28.2%
THNQ
Tesla Inc.
TSLA
$99,558
$128,412
$161,061
27.2%
ROBT, THNQ, WTAI
CrowdStrike Holdings Inc. Class A
CRWD
$2,935
$3,793
$4,739
27.1%
THNQ, WTAI
PB Fintech Ltd.
IN:543390
$358
$462
$573
26.5%
IRBO
Source: FactSet
Click the tickers for more about each company or ETF.
Click here for Tomi Kilgore's detailed guide to the wealth of information for free on the MarketWatch quote pages.
We have screened for expected revenue growth, rather than for earnings or cash flow, because in a newer tech-oriented business area, investors are most likely to consider the top line as companies sacrifice profits to build market share.
It is important to do your own research if you consider purchasing any individual stock, to form your own opinion about a company's ability to remain competitive over the long term. Starting from the top of the list, BioXcel Therapeutics Inc.
BTAI
is expected to show exponential sales growth, but that is from a low expected baseline this year.
What about the largest AI-related companies held by these ETFs?
Here are the largest 20 companies in the screen by market capitalization, ranked by expected sales CAGR from 2022 through 2025. Once again the sales estimates are in millions of U.S. dollars, but the market caps are in billions.
Company
Ticker
Estimated sales – 2023 ($mil)
Estimated sales – 2024 ($mil)
Estimated sales – 2025 $mil)
Two-year estimated sales CAGR through 2025
Market Cap ($bil)
Held by
Tesla Inc.
TSLA
$99,558
$128,412
$161,061
27.2%
$528
ROBT, THNQ, WTAI
Nvidia Corp.
NVDA
$29,839
$36,877
$46,154
24.4%
$722
BOTZ, IRBO, ROBT, THNQ, WTAI
Taiwan Semiconductor Manufacturing Co. Ltd. ADR
TSM
$71,434
$86,284
$101,112
19.0%
$445
ROBT, WTAI
Advanced Micro Devices Inc.
AMD
$22,976
$26,823
$30,359
15.0%
$163
IRBO, ROBT, THNQ, WTAI
ASML Holding NV ADR
ASML
$28,974
$32,374
$37,796
14.2%
$263
THNQ, WTAI
Microsoft Corp.
MSFT
$223,438
$251,028
$282,397
12.4%
$2,318
IRBO, ROBT, THNQ, WTAI
Samsung Electronics Co. Ltd.
KR:005930
$200,595
$227,286
$252,129
12.1%
$292
IRBO, WTAI
Amazon.com Inc.
AMZN
$559,438
$626,549
$702,395
12.1%
$1,164
IRBO, ROBT, THNQ, WTAI
Adobe Inc.
ADBE
$19,470
$21,784
$24,276
11.7%
$158
IRBO, THNQ
Netflix Inc.
NFLX
$33,915
$38,067
$42,275
11.6%
$148
IRBO, THNQ
Tencent Holdings Ltd.
HK:700
$88,727
$99,212
$110,556
11.6%
$422
IRBO, ROBT
Salesforce Inc.
CRM
$34,392
$38,273
$42,786
11.5%
$205
IRBO, THNQ
Alphabet Inc. Class A
GOOGL
$299,810
$333,077
$369,195
11.0%
$710
IRBO, ROBT, THNQ, WTAI
Intel Corp.
INTC
$51,060
$57,799
$62,675
10.8%
$122
IRBO, ROBT
Meta Platforms Inc. Class A
META
$125,901
$139,545
$154,259
10.7%
$528
IRBO, WTAI
Alibaba Group Holding Ltd. ADR
BABA
$134,140
$148,206
$162,199
10.0%
$235
ROBT, THNQ
Texas Instruments Inc.
TXN
$17,941
$19,433
$20,799
7.7%
$148
IRBO
Apple Inc.
AAPL
$390,845
$416,761
$445,956
6.8%
$2,706
IRBO, WTAI
Siemens Aktiengesellschaft
XE:SIE
$84,681
$89,145
$93,925
5.3%
$130
ROBT
Johnson & Johnson
JNJ
$98,761
$100,990
$103,870
2.6%
$414
ROBT
Source: FactSet
Tech-stock picks that are small and focused: This fund invests in unsung innovators. Here are 2 top choices.